Today for P day, Elder Murri and I are going out with a part-member family that we are really good friends with. Honestly it feels like we are just hanging out with them every time we go to their house.
I love those two.
Their names are Dave and Charlotte.
We see them once a week probably and we always end up staying over an hour.
We are playing some basketball with Dave today, and then we are going to a castle that is right outside of Southend with the two of them later on today as well. It's called Hadleigh Castle. We pass it every time we go to London so I am stoked to finally go see it.
If you watched the Mountain Biking events for the Olympics, that is right by Southend. [The Mountain Biking event was] right by the castle and is probably a 20-minute walk from my flat. So if you saw that you saw where the castle is and where I am.
I'll take plenty of pictures.
from Jen:
This is from the Olympic website about the mountain bike venue in Hadleigh Park:
"Located in the Essex countryside on land owned by the Salvation Army, Hadleigh Farm is a 550-acre site that features beautiful grassland and woodland. It also includes the surrounding countryside of Hadleigh Castle Country Park. Hadleigh Farm offers some fantastic terrain for mountain biking, with gradients measuring 70 metres from top to bottom."
Check out #7 on the map below to see where Christian is.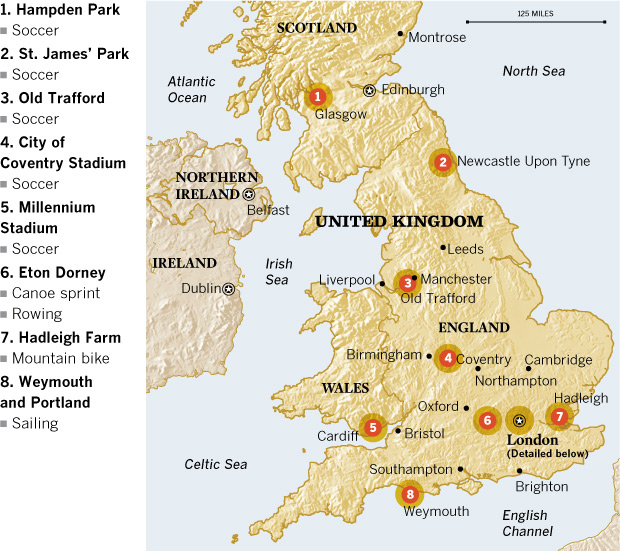 Hadleigh Castle overlooks the Thames estuary. It was built between 1215 and 1239 then rebuilt in the 1360's. It stands in its current condition today primarily because of the unstable clay hill upon which it was built. Several instances of land slippage and the sale of its stonework in the 16th century have led to its present state of ruin.