Remember remember the fifth of November

Gunpowder, treason and plot.

I see no reason why gunpowder, treason

Should ever be forgot...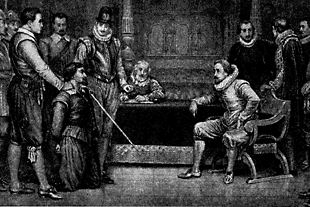 The unfortunate conspirator Fawkes appears before his intended victim.
Well Happy Bonfire Night.
Halloween is really not that big here but Guy Fawkes night is! I am definitely bringing this back to America. You just have a bonfire and light fireworks all because a man failed to blow up Parliament a long time ago. It's a good time! Halloween ain't got nothing on Guy Fawkes.
The pictures are from our bonfire night celebrations with some members.